Gammaflux G 24 Series
Hot Runner Temperature Controllers


Precise temperature management is critical to manufacturing high-quality parts with little scrap while achieving profitability. The high-precision, easy-to-use Gammaflux control technology supports sophisticated temperature control of your hot runner system.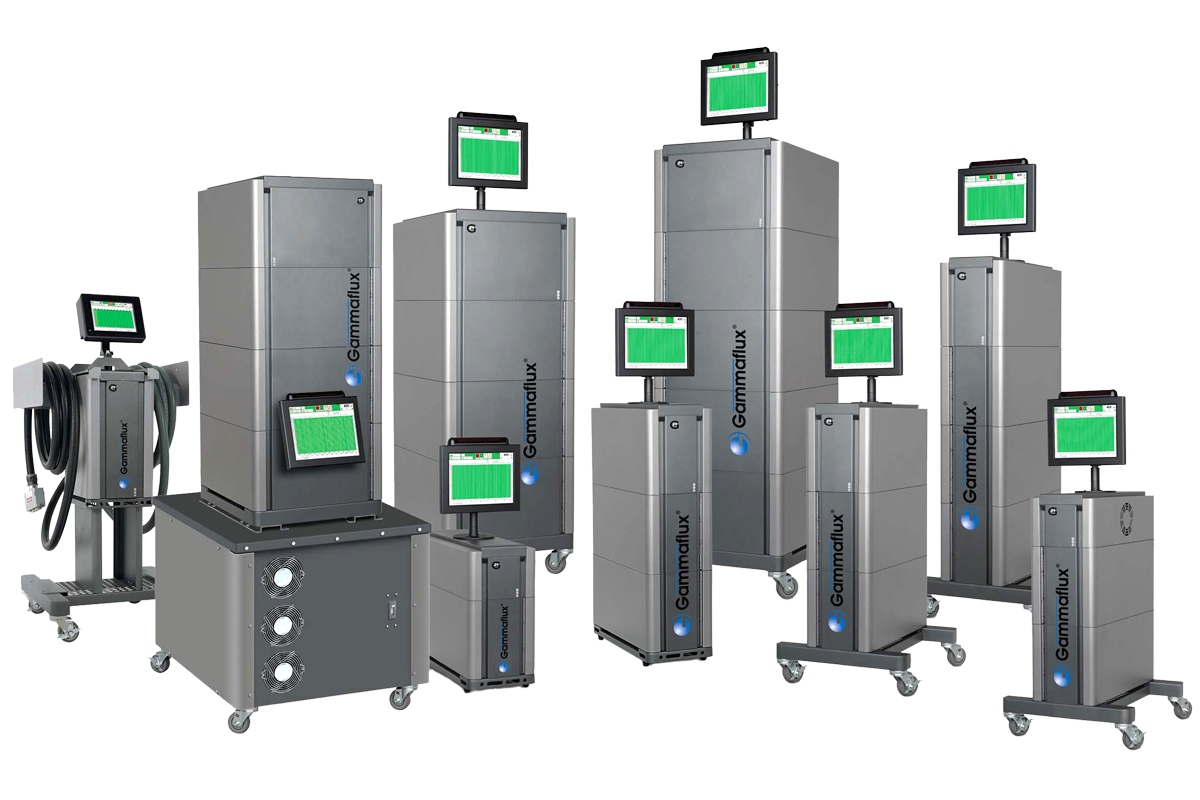 Temperature control up to 192 zones in one enclosure - with daisy chain cable and up to 384 zones in 2 enclosures.
Precise temperature management is essential to produce very good parts, little scrap and thus also the corresponding margin in injection molding. Gammaflux control technology supports the sophisticated temperature management of your hot runner system - precise and user-friendly. Regardless of how many zones you control or which housing you choose, all temperature controllers in the G 24 family work with the patented TRIANGULATED CONTROL TECHNOLOGY® which regulates the temperature very precisely and responsively.
We know everyday production and deliver reliable, easy-to-use products. The life expectancy of a Gammaflux controller is approximately 10 to 15 years, depending on maintenance quality. Some Gammaflux controllers have been in continuous operation for more than 25 years. To make it easy to use, a wizard called the "Mold Wizard" guides you through the installation, making the setup self-explanatory.

The controllers are extremely space-saving in their design and can be equipped with practical details such as cable holders or removable transformer housing.
BLOG PREVIEW
WHAT WE HAVE TO SAY
With our blog post preview you have lots of different layout and extensive filter options to promote and push your content.
Comprehensive Functionality
Mold Wizard
Early Leak Detection
Mold Doctor
Calibration
Cavity Map Pro
Easy to Use
Best industry practices and actual operation are often not the same. The G24 is designed to be understood with 5 minutes of training, and programmable to automatically operate according to the industry's best practices. The Gammaflux Mold Wizard effortlessly guides the user through
(1) Zone identification and group creation
(2) Setpoint entry
(3) Monitor zone configuration
(4) Sophisticated mold startup functions
(5) Advanced zone monitor functions
(6) Heating the mold
(7) Saving the menu
During this process, the software automatically tunes each zone, engages the plastic leak detection alarm, sets the imminent heater failure alarm and saves everything back to the mold menu automatically after the "good parts" button is confirmed by the operator. The Wizard makes everyone a controller configuration expert.
Detection By Measuring The Actual Wattage
When plastic leaks into the mold, it occupies a former air space. Eliminating the air space creates a heat sink to the surrounding mass. In automatic mode, the controller increases the power to compensate for the loss in heat. The Mold Wizard automatically sets the watt baseline and engages the alarm after the "good parts" part button is confirmed by the operator. Precisely measuring the actual wattage can be the difference between a short trip to the tool room or weeks of lost production.
Troubleshoot Your Mold
Mold Doctor® is an off-line (tool room), advanced troubleshooting tool consisting of four diagnostic tests:
Wiring Analysis: checks the wiring of the tool. The software clearly tells the user of miswired zones and how to fix them.
Fault Analysis: quickly identifies the following problems: thermocouple open, thermocouple reversed, thermocouple pinched, open fuse, heater short/wet, heater open, uncontrolled output and ground fault.
Thermodynamic Analysis: automatically heats all selected zones to a defined setpoint value and cools down. During the heating and cooling process Mold Doctor® records critical information and reports to the user. Compare zones against one another; major differences in the four key areas (resistance, power consumption, heating and cooling rates) will point you towards a solution. Once the tool is qualified, save a thermodynamic analysis as your known "good parts" baseline. Future problems will be easy to diagnose using the historical mold performance tool.
Historical Mold Performance: allows the user to easily compare a known "good" thermodynamic analysis baseline to the current "suspect" thermodynamic analysis. Intuitively troubleshoot your mold with hard data.
Calibrate Without a Calibration Expert
Calibrate your controllers in house quickly, easily and without a calibration technician. Using a field calibrator, establish a thermocouple source equivalent to the controller. The difference between the calibrator value and the control screen is the calibration error. The calibration software corrects the error with an accuracy of ± 0.2º F (± 0.1º C).
Create Tip Layout Patterns
Quickly create a cavity map that is saved with the mold menu. The on-screen tools allow the user to create common tip layout patterns instantly. Select zones to study closer and flip the image to quickly identify which zone/cavity to change or investigate.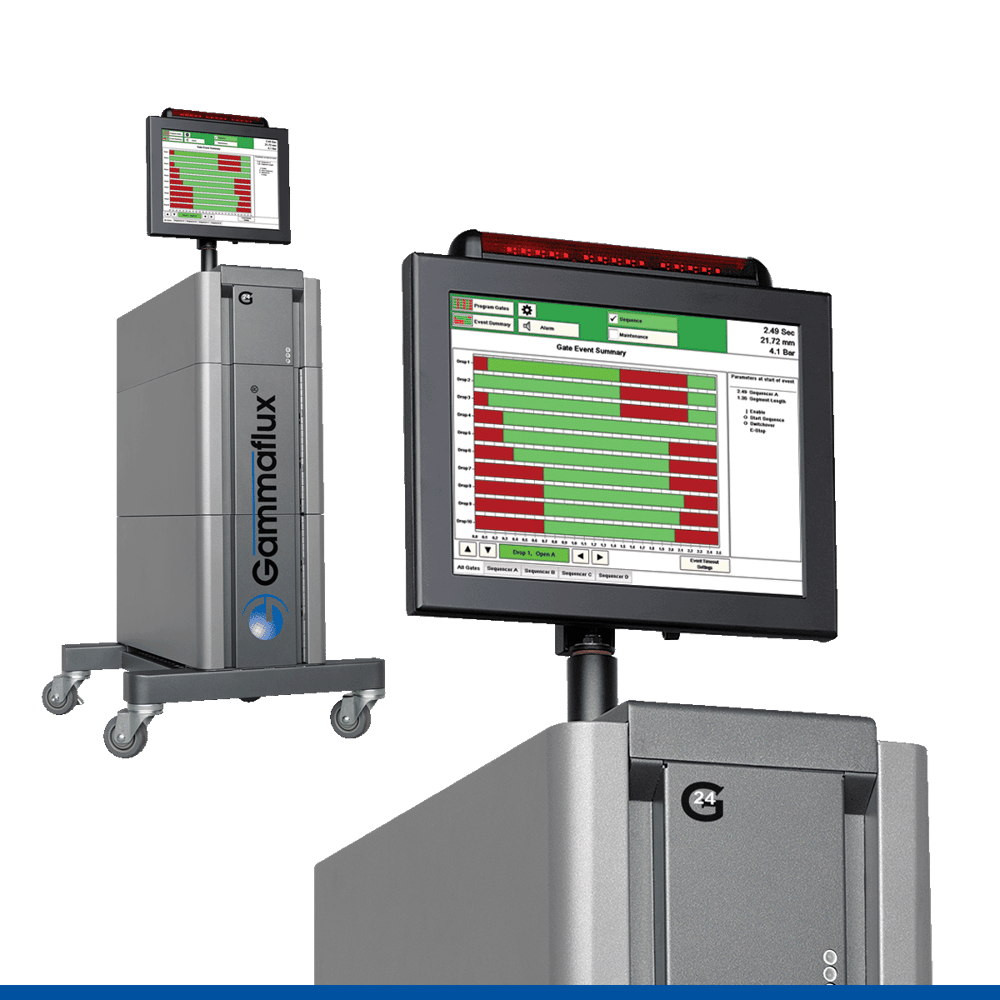 Manufacturers of large, complex or difficult to fill parts often turn to Sequential Valve Gate Control (SVGC) to solve molding issues. All SVGC applications have hot runner manifold or melt delivery systems feeding individual nozzles. Using SVGC the processor has the ability to selectively open or close each valve gate nozzle individually to precisely control the material flow. The most common pin actuation methods are pneumatic or hydraulic. Filling the part in a sequence or selectively shutting off individual cavities could have the following benefits:
Knit line control
Improved cosmetics
Stronger parts
Less warpage
Lighter weight parts
Dimension improvement
Cavity fill balancing
Family mold balancing
Reduced injection pressure
Reduced machine tonnage
Temperature SVGC can be combined in one enclosure and with one user interface. Up to 48 nozzles can be sequentially controlled.
A small, space-saving unit that can be conveniently used for multiple injection molding machines.
Due to the extremely compact design of the HPU (Hydraulic Power Unit), an integrated combination with a Gammaflux G24 SVGC controller with a small footprint is possible, as well as combined with an integrated hot runner temperature controller.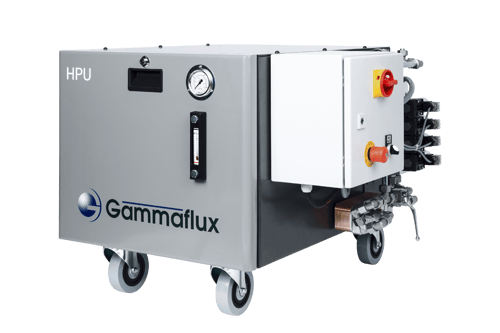 Stand Alone Mobile HPU (Hydraulic power Unit)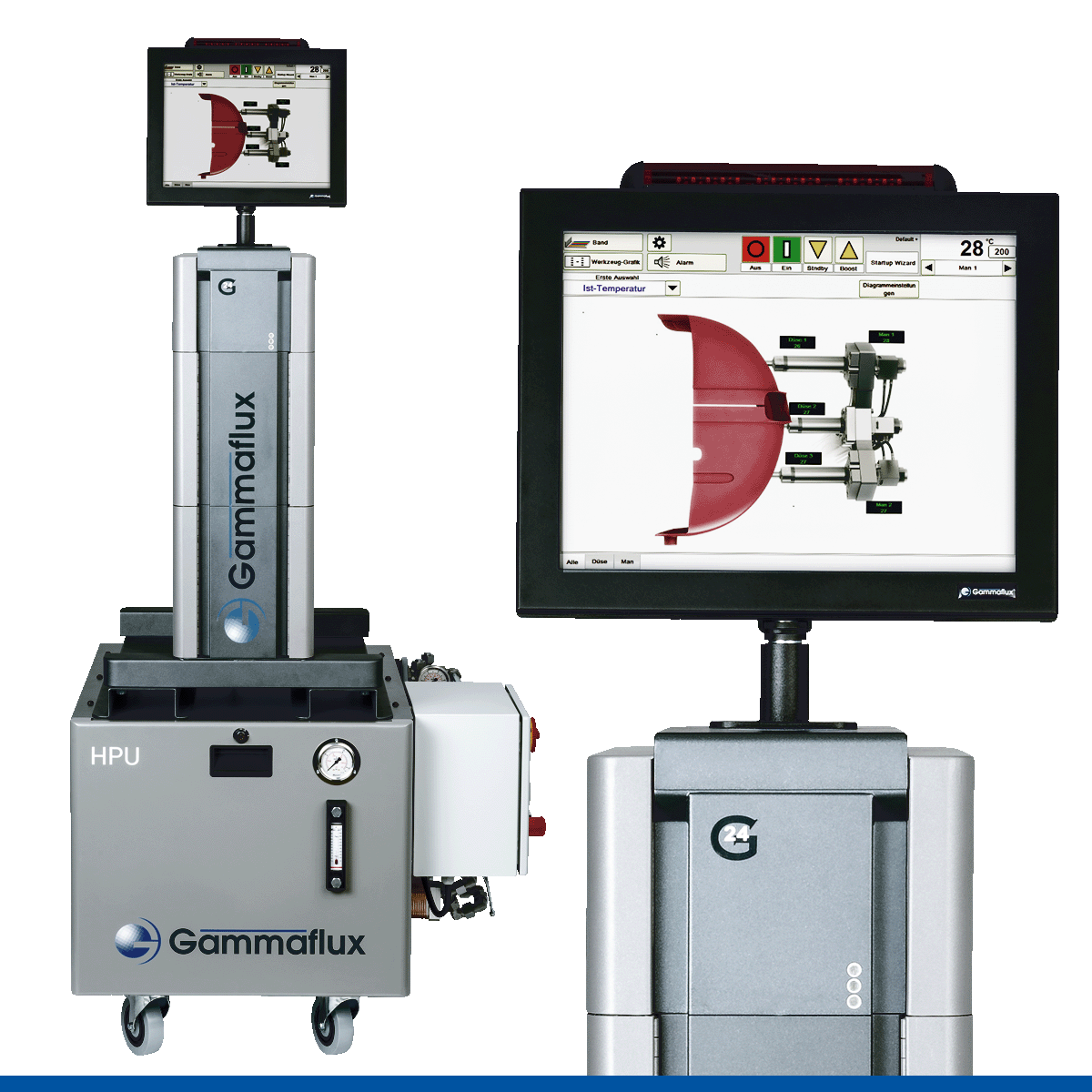 Integrated G 24 SVGC Controller with HPU
(Hydraulic power Unit)
Combines Temperature Controller with a Servo Control Unit for high precision electric driven axis in injection mold, e.g. valve pin actuation,
sliders, turntables, etc.
Control of maximum 5 electrical axis
EUROMAP interface
Free adjustable movement profile (e.g. speed, position, pin retracting)
Graphic monitoring for process data
SPC monitoring for process data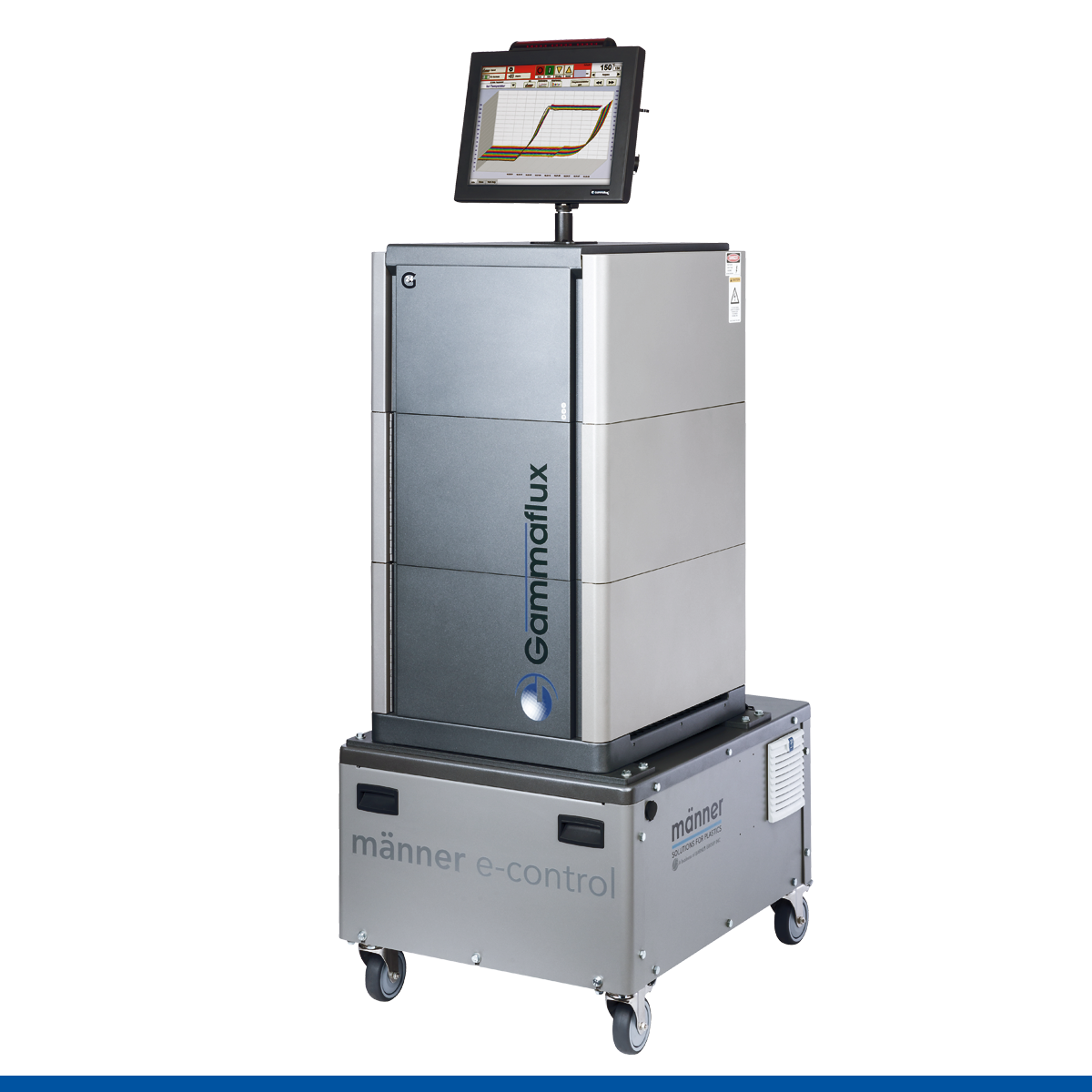 When selecting Gammaflux, you are selecting a partner who is
critical to your individual product and profitability.

Gammaflux has half of a century of providing the industry with leading control systems technology.

Unmatched, hands-on support no matter where in the world you are located. Experience why our service is our strength.

Controls you can count on. People you can trust. We stand behind our products and the people who service them with our guaranteed warranties.